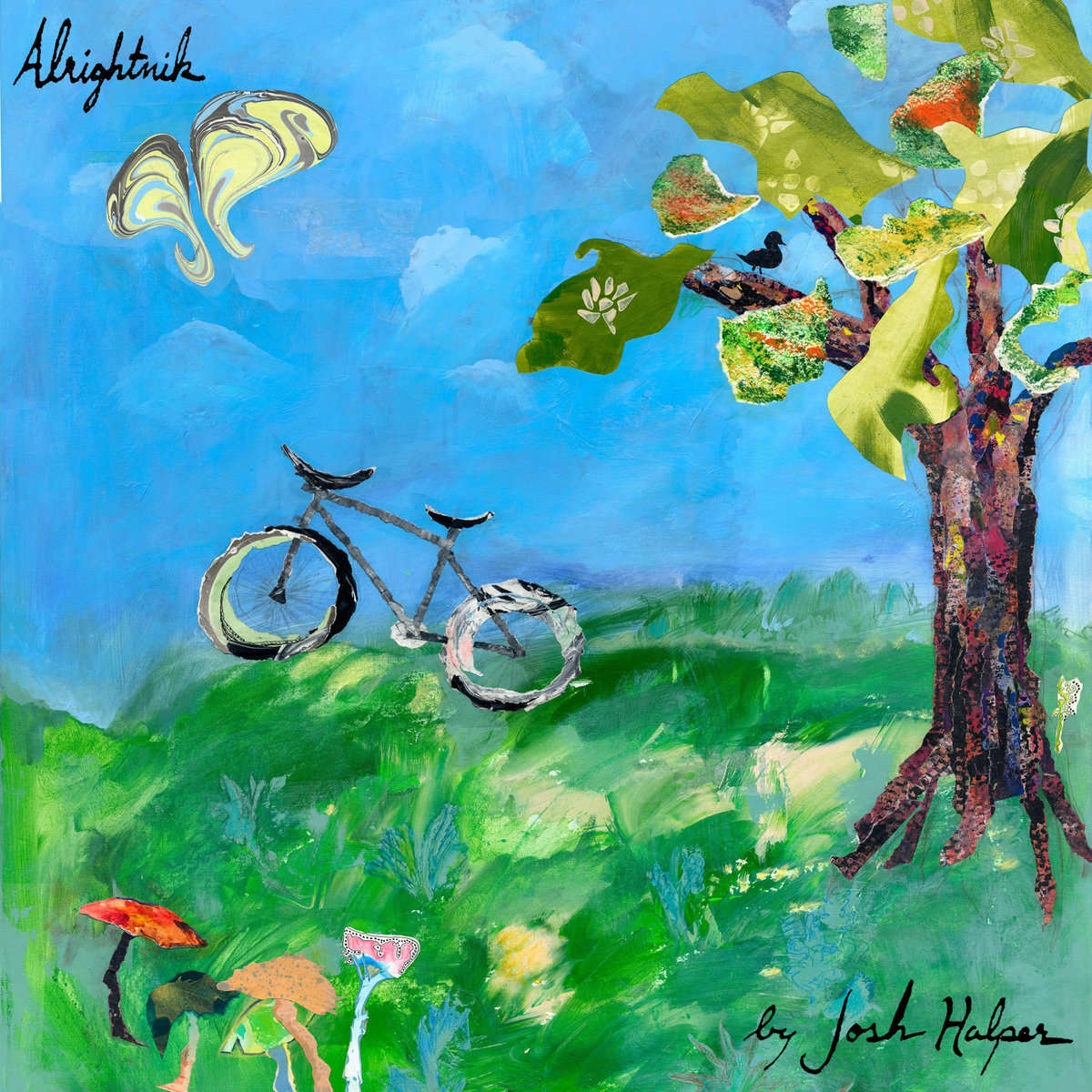 Alrightnik could be an all-instrumental album and it would still be super satisfying. Josh Halper, who is a classically trained guitarist out of Nashville, who plays as a session musician with some of Nashville's greatest, tinkers with honkey tonk, country, Americana, indie rock. Like bluegrass music, it hooks you with every twist and turn, every nook and cranny. The instrumental, "Reflection," utilizes a guitar sound like crystal waters, recalling a mountain lake or silvery glass, that gives you time, like the title suggests, just to reflect. "Desperation Waltz" is a beautiful but haunting study, with the light of guitar and the dark of strings, playing off of each other to great effect, as joy and sadness sometimes dance in depression. "Prelude In B Minor" made me fall in love with the key and long for an even longer discovery of a scale not utilized enough in popular music. 
Without his singing tracks, however, we would miss something very special. His subtle humor, his deep pathos, and his knack for writing a killer song. He starts the album with a cover of one of the greatest songwriters of all time, (a humorist, like himself,) Randy Newman. And it's a fitting choice for an album that is the brain child of someone who is obviously steeped in the history of songwriting.
The album starts simple, with Newman's "Dayton, OH – 1903." "The air was clean and you could breathe / and folks were nice to you / Would you like to come over for tea / with the mrs. and me?" It's a little invitation to spend the next 30 minutes with Josh, share something pure and real. Though, like Randy Newman, Josh is willing to look at the more embarrassing parts of human nature in his songwriting, pull the veil back on humanity and have a chuckle and a cry together with you.
One such track is "Whale in a Field," a song about a beached whale who is having a lot of trouble finding help from his other land mammal friends. What makes it even more sad and relatable is that Josh insinuates that the whale is the one responsible for the mess that he's in. "So I'll think, and I'll breathe, then I'll step / Counting the actions that I could regret / But I won't, cause I'll only forget / The lessons I learned and end up here again." It makes me wonder how big of a brain science tells us a whale has? (Is that part of Josh's humor?) Like a goldfish, his memory is prone to fail, but it doesn't make us empathize with the whale any less.
In a similar study on personal failure, "Who Knows," Josh tells a story of the trouble he gets in with friends, "down on Broadway". "Whatever we were doin' was despicable / But it sure was fun." But in a humorous twist he has to ask his friends what he did, because he was purportedly too drunk (or high or high on adrenaline) to remember any of it himself. "Everybody knows where I'm going / Everyone knows where I've been," he sings in his endearing mid-range voice on the chorus. And so it's a look, too, at the gossip circles that are at the center of the town that you call home. You can't just be a failure, you have to be a failure, over and over again, in a hundred people's eyes.
This record is hardly the work of a failure, however. It's instrumentation and songwriting is up there with the best music out there right now. It is charming, and moving, and dynamic. It offers you a little bit of everything that you could like about music, from dips and rises, to quips and surprises. It is an impressive debut album, but from an artist who has obviously been around the block a couple times. It's the kind of thing that doesn't just demand replays, but demands a sequel. A gentle giant of a record.